Deming is located in the Southwestern part of New Mexico, 33 miles north of the Mexico border. It is about 30 miles west of Las Cruces and half way between Tucson, Arizona and El Paso, Texas along Interstate 10.
It is the county seat for Luna County. It is a land of ever present sun and flowing desert rocks and cacti. It is a rich agricultural area with beautiful cattle farms and crops of chilies, onions, cotton and pecans. It is known for 99% pure water. It is often called a rock hunters paradise.
The Florida Mountains offers a spectacular background to these wide-open spaces. It is matched by its friendly hospitality. The elevation is approximately 4335 feet making for desirable temperatures of around 90 degrees in the summer and 59 degrees in the winter. It is an arid climate with low humidity. Average rainfall is 9 inches. They receive occasional snowfall but it quickly melts. They are well known for their winters, offering plenty of sunshine and little rain to the snowbirds enjoying their RV's!
Rock Hound State Park is a favorite place for the locals to explore the Florida Mountains.
Click Here
for more information about Rock Hound State Park where you can hunt for quartz crystals, geodes, jasper, perlite, and many other minerals.
The population in Luna County and Deming was estimated in 2004 to be 26,129 and 14,647. It is a full service community with low cost of living, affordable taxes, municipal airport, hospital, library, 18 hole golf course, and a community college. It boasts of being home to the Great American Duck Race! It is a busy small town with plenty of restaurants, hotels and shopping available.
Rockhound State Park sits in the Florida Mountains and is known for her rocks. It offers trails, unique geology, wildflower displays, and a peaceful campground. Rock hounders can hunt for quartz crystals, geodes, jasper, perlite, and many other minerals. You are allowed to take home up to 15 pounds!
In October 2015 I hiked into a canyon that was south of Cookes Peak and saw some fabulous petroglyphs in a cave!


Cookes Canyon, a passage way thru the mountains, was part of the 3,000 mile historic southern mail route called the Butterfield Trail that began in Tennessee and ended in San Francisco. There are so many things to explore here, old abandoned mines and the famous Fort Cummings used in the 1800s to protect from Indian raids. Cookes Range Wilderness Study Area, petroglyphs at Massacre Peak and waterfalls at Black Rock Canyon are just a few things to see nearby. It's also home to the City of Rock State Park which I visited for my first time in July 2017!
Deming is a small town of about 14,647 and Luna County has a population of about 25,000. It's about 60 miles west of Las Cruces, NM and 33 miles N of the border of Mexico. Besides the low cost of living and affordable taxes, it offers a municipal airport, hospital/ambulance service, nursing home, senior citizens center, library, over 40 churches, over 80 listed organizations including a Rotary Club that meets every Thursday at 12:00 at the Rio Mimbres Country Club which happens to also be the 18 hole golf course (put that on my bucket place of Rotary meetings to attend), a civic center, public auditorium, schools and a community college.
Good timing seeing a man chip one to the hole in May 2018 at Rio Mimbres!


Unlike other border towns I haven't seen an influx of snowbirds in their RV's here. However I did see two new RV parks on the west side of the Florida Mountains when I was driving and it made me wonder if my neighbors had to get a variance permit to turn their property into an RV park. What I have seen are permanent snowbird who have retired here because they want to own their own piece of land and not an RV spot and it's affordable.
It's a dry arid climate with low humidity and an average high temperature in July of 95*. That's quite a bit cooler than Tuscon at 100*, Phoenix at 106* and Yuma at 107*. People with arthritis are drawn here because it keeps the swelling and inflammation down and this is something that I can certainly relate to and I'm 52!
---
The Center for Innovation, Testing, and Evaluation (CITE) Plans to Build It's $1 Billion Futuristic City Near Deming, New Mexico!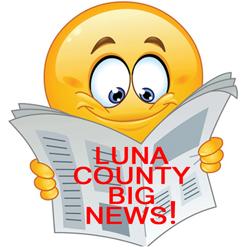 The Center for Innovation, Testing, and Evaluation (CITE) is set to be build their $1 billion futuristic research city near Deming, New Mexico. It plans to have green energy powering the buildings, self-driving cars navigating the tree lined streets, with schools, high-rises and suburbs meant for a population of 35,000 that will never actually live there! Wow!
Yep that's right, it's a research city with visions of renewable energy sources like solar, wind, geothermal and bio power plants running side-by-side with new forms of water treatment and cyber-security projects. It expects to employ 350 people directly, and up to 3,500 contractors will be hired to supplement them.
I've spent quite some time researching the exact location and I've found a few different reports but all say along the Interstate 10 corridor straddling Luna County and Doña Ana County and will encompass roughly 18 square miles. I contacted the planning department and they said they did not have the location yet but something was going on at the county planning…or something like that!
Click here
to read more about this project on CITE's website. I suggest you scroll towards the bottom to watch some pretty informative videos! I'll keep you updated as I find out more information! It sounds like Luna County might just "Meet George Jetson!"