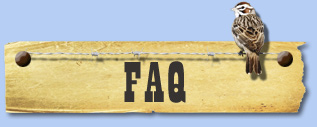 Question: How do I ask additional questions about property listed?
Answer: Call or e-mail us


Question: What are my responsibilities as a buyer?
Answer: We encourage all of our buyers to complete their own due diligence. Smile4u does its best to obtain information on each property, but it is always best that you educate yourself as much as possible before purchasing. This can include a site visit, verification of our ownership through the county records, verification of taxes being paid current, etc.



Question: What type of deed do you use to transfer ownership?
Answer: In most cases we use a special warranty deed to transfer ownership. This deed warrants to our buyer (the Grantee) that we will defend the right and title to the property against claims against the buyer that arise from, under or through us (the Grantor).


Question: With a Contract for Deed when owner financing, can I live on the property during that time?
Answer: You must pay off the contract prior to using the land. We don't mind if you go visit it a couple weeks out of the year if you let us know ahead of time. However you are not allowed to live on the property during the contract.


Question: What is a quit claim deed?
Answer: A deed that does not imply that the grantor holds title, but that surrenders and gives to the grantee any possible interest or rights that the grantor may have in the property. We seldom use this deed and would disclose the use of this deed in the property listing if it was to be used.


Question: Other questions about deed types?
Answer: Contact us with your questions



Question: Who are you?
Answer: Please go to the About Us section of the website to learn more about who we are.


Question: Are you licensed realtors?
Answer: No. We represent ourselves and only sell land that we own.


Question: Can I sell my land on your website?
Answer: No. We only sell land that we own. If you would like us to make you an offer for your land, please contact us with the property information.


Question: Who can I call to verify that you own this land?
Answer: Land ownership is tracked through the County Assessor's Office in most cases. The land is held in our company name Smile4u Inc.



Question: What is a dedicated easement?
Answer: It is the legally recorded access to a property. It is usually seen on subdivision maps as the designated roads. It is usually granted to the property when the property is originally subdivided and it is recorded at the county. A dedicated easement guarantees you the right to access your property so that it is not landlocked. You have the right to blade this access and make a road if it doesn't already exist. There was a lot of land subdivided in the 60's and 70's in the western states and many of these areas had bulldozers blade the roads along easements and section lines.


Question: Are mineral rights included with the property and can I build on a piece of property that does not have mineral rights?
Answer: Mineral rights require research through the county as well as the BLM (Bureau of Land Management). If you want to know if mineral rights are included you would need to search this yourself. In most cases mineral rights have been reserved by a previous owner and I have also been told that even if someone granted or reserved the mineral rights through a deed that doesn't necessarily mean that they owned them to begin with. However mineral rights do not determine whether the property is buildable. If there were no mineral rights granted from the US Government or if someone has previously reserved the mineral rights the land is still buildable and can be used for the purposes determined by the County zoning.


Question: I called the County Assessor's Office and they said the property was under a different name than Smile4u Inc. Who are these other people?
Answer: We buy land from many different sources and the turnaround time on properties we buy and sell can be a matter of days. Once a deed is recorded at the County Recorder's Office they give this information to the County Assessor's Office. The County Assessor is responsible for keeping track of who owns what property and assessing the value of what that property is. Each county does this process differently. Some counties are very technologically up to date and the time it takes to actually show this transfer is a day. Other counties only update this information every few months at best. Most likely the name is under who we purchased it from, but ask us for the date, book and page and you can verify the transfer through the County or we will fax you a copy of the recorded deed.


Question: Do you have more land then what is listed?
Answer: Yes, we do have more land then listed on our site. Please contact us for any inquries that you may have.



Question: Are there any additional costs when purchasing land from Smile4u Inc.?
Answer: Yes. There is a doc prep fee of $150 to be added to the cost of the land. We will prepare all of the necessary documents and we will include a check to the county to record these documents. These fees include the recording fee and transfer tax if applicable. You will have no additional costs other than the $150 to transfer ownership to you.


Question: Are there any liens on properties that you sell?
Answer: No.


Question: Who can I call to verify that the taxes are paid current?
Answer: You can contact the County Treasurer's Office in most cases.


Question: Is there real estate tax on purchased property?
Answer: Real estate tax varies from state to state. We do pay all fees necessary to transfer ownership including the transfer tax if applicable.


Question: What about title insurance and a title search?


Answer: You can purchase title insurance or a title search through a title company in that County. If you would like a reference for a title company, then let us know and we will refer you to the title company that we use.


Question: What do POA and HOA mean?
Answer: POA and HOA stands for Property Owner's Association or Home Owner's Association. This is an association usually formed by the property owners of a particular subdivision. Some of these associations have annual assessments which are always noted in the listing. These dues are used to improve or maintain roads, upkeep of the community area, etc.


Question: What does APN mean?
Answer: Assessor's Parcel Number. This is a number assigned to properties by the counties. Each parcel of land has its own unique number.



Question: What methods of payment do you accept?
Answer: We accept payment by Cashier's Check, Money Order, Debit, or Credit Card. We accept Visa, Mastercard, or Discover Card for credit card payments. If any of these methods are used, the documents for the sale can be completed within 24 hours (business day) in most cases.

We are also willing to accept personal check, however, we will have to wait 11 business days for the check to officially clear the bank before we can complete any documents for transfer of ownership.



Question: What is your sales process?
Answer: Once you've found a piece of property you are ready to purchase, please click on the "Buy it Now" button at the bottom of the listing and fill in the short form for basic information and contact information. When we receive this information we will follow up with a confirmation email to you outlining the process to close the transaction. Once we send you this email, payment will be due in 3 business days unless other arrangements have been agreed upon. After payment has been received, a packet will be sent out to you via Priority Mail. This packet will contain all the necessary information and documents to transfer ownership to you or a contract to be signed and notarized if financing.


Question: What is contained in the packet that is mailed to your customers?
Answer: A letter with closing instructions, the deed, a check payable to the County for the recording fees/transfer taxes, a preaddressed envelope to the County and maps to your property. You just need to review the material making sure we have your correct name/address, sign if indicated and forward the documents onto the County in the envelope provided to be recorded. They will return the recorded deed to you and the property is legally yours.


Question: How long will it take us to get our deed?
Answer: Since we use Priorty Mail, it typically takes between 3 to 5 days after we receive payment.


Question: What if there is a problem with the paper work or the deed gets lost in transit?
Answer: We will complete new paperwork and overnight it to you.



Question: Do I need to register to view or buy property from Smile4u Inc.?
Answer: No, you do not have to register to purchase land through our site.