---
June 2017 Update on the Economic Development in Valencia County, New Mexico:
I've been keeping an eye on the Facebook Data Center being built in Los Lunas since I first heard about it. It broke ground in 2016 and I got my first chance to see it in January 2018.



Here is another look at it just a month later in February 2018!


In November 2017, Facebook announced it will build a total of six buildings at its billion-dollar data center in Los Lunas, adding an additional four to the two already and adding 1.8 million square feet for a total of 2.8 million square feet! The building is expected to go through 2023. There are estimates that between 800 and 1,000 construction workers are on site every day for the next six years.
The data center is located at the Huning Ranch Business & Tech Park and I found this map showing the existing area and future proposed growth.
Here's a map I found on the economic development site showing the location of growth as well
PNM is already building three solar plants of its own in Los Lunas to supply 30 MW of power for the first two buildings in Facebook's facility. But with Facebook announcing plans to expand to six buildings over the next five years, it wants to ramp up its energy needs. To supply the additional power, PNM negotiated agreements with two companies, Avangrid Renewables and NextEra Energy Inc., to build and run the plants and sell the energy to PNM for delivery to Facebook. It includes:
A 166 MW wind farm that Avangrid will build east of Estancia in Torrance County, to open by 2020. It will be Avangrid's second wind facility in that county, where it's now finishing construction of the 298 MW El Cabo Wind Farm near Moriarty.
A $72 million, 50 MW wind farm in Quay and DeBaca counties in eastern New Mexico to be built by NextEra and completed in December 2018.
A $75 million, 50 MW solar plant that NextEra will build in Cibola County to open in December 2021.
NM-6 highway is receiving a rehabilitation with a cost of $30,929,344.80 and is scheduled to be completed the summer of 2018. It starts at Interstate 40 about 33 miles west of Albuquerque and goes for 18 miles SE towards Los Lunas and includes replacing two bridges and bring roads up to current design standards. This will create a high quality bypass route that will allow commercial trucks to move goods more efficiently. I myself have used this cutoff for the past several years as it bypasses the busy intersection in Albuquerque of Interstates 40 and 25 and saves a good half an hour!
The Los Lunas Economic Development site is filled with information of business that have recently opened as well as several announcing plans; bottled water supplier Niagara Bottling announced it will opening a beverage manufacturing facility here, manufacturer Keter Plastics announced it would move into the long-vacant Solo Cup plant in Belen, two new residential subdivisions are coming to Los Lunas and Belen, Rancho Valencia and De La Reina, and the Westside Burger King opened for business!
Click here
to reach the cities website where you will find more information about these projects!
The Morris Road Projects!
I read about the Interstate 25 interchange and the East-West Corridor project they are working on referred to as Morris Road on the map. This is a 4 mile stretch of road that would add a new bridge over the Rio Grande River, a new intersection at NM 47 and is estimated to cost $49 million.
Map showing the Morris Road Project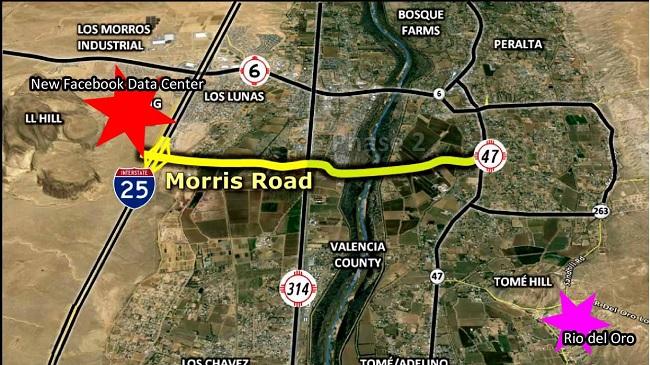 Click here
to read about this project on the cities website.
Belen, the Friendly City, is located in Central New Mexico 32 miles S of Albuquerque. The Rio Communities is three miles east of Belen and Los Lunas is 10 miles N of Belen. Its a pretty valley nestled against the Manzano Mountains on the east, and Mesas on the west.
The population in Belen is about 7500 and Los Lunas is about 25,000 and you can definitely see the growth in these two towns as you drive around. There is a large labor force in Los Lunas and Belen that work in Albuquerque and they can now take the Rail Runner into Albuquerque! A few times now I have caught the parking lot full and the train with her cool roadrunner on top! I really enjoy the art on it and read that the name is a play on the state bird the roadrunner.
In 2006 residents in Belen and Los Lunas approved a mill levy tax to pay for maintenance and operations of the new Valencia County Hospital and in 2015 there was about $22 million in the fund. The closest hospital is in Albuquerque yet this continues to be a slow moving project as there was a disagreement whether the monies should go to Belen or Los Lunas. In 2013 the monies were awarded to Belen by the Valencia County Commissioners. Los Lunas filed a law suit and I read that in April 2015 the New Mexico Court of Appeals is looking into the lawsuit but didn't know when a decision will be made. This has been a slow moving project and I imagine the residents of both communities hope it gets resolved soon though – that's a long time!
If you're looking for property in Rio del Oro be sure and check out when the dues are expiring. Majority of the properties here had their dues expire between 2009 and 2011 so never due again however some lots there have dues that will never expire. You can contact the Valley Improvement Association if you wish to know more about their Association. They have quite a bit of information on their website VIA.org. They are very nice people who have been extremely helpful over the years.
Belen was founded in 1740 by 2 Spaniards named Captain Don Diego Torres and Antonio Salazar who was Torres brother inlaw. They named the town Belen (Spanish for Bethlehem) in honor of that town. In 1901 the Santa Fe railroad had just finished laying down railroad tracks which has made Belen the transportation hub of New Mexico. And to this day Burlington Northern shares the central switch yards. Some days, nearly 100 trains roll through the Belen Railroad Yard hauling freight north, south, east and west to all points in North America. This is truly a wonderland for anyone who likes to watch trains.
With an average annual rainfall of 10 inches per year and snowfall of 11 inches, many people consider the climate ideal. The daytime high temperatures are in the low 90's in the summer months and daytime high temperatures are in the 50's in the winter months . The temperatures do fall below freezing during the winter months but the snow quickly melts.
The Mountainair Ranger District in the Cibola National Forest is made up of the Gallinas and Manzano Mountains. The Manzano Mountains are located primarily in Torrance County with a small section on the west side of the mountain located in Valencia County. Wildlife include mule deer, a small population of elk, black bear, mountain lion, turkey and pronghorn antelope. Birds include small European falcons (kestrels) and golden eagles. Sensitive, threatened, and endangered Mexican spotted owl habitat can be found and some Northern Goshawks are also present. They provide beautiful trails and canyons for exploring, horseback riding, hiking and backpacking.
Across the valley to the SW of Los Lunas and Belen is the Sierra Ladrones which lies between the Rio Puerco to the east and the Rio Salado to the southwest. The highest peak is Ladron Peak at 9,210 feet and her summit is almost 4500 feet above the Rio Grande Valley! Part of the range is included in the Sevellita National Wildlife Refuge. Animal species include mountain lion, pronghorn, bear and desert bighorn sheep.